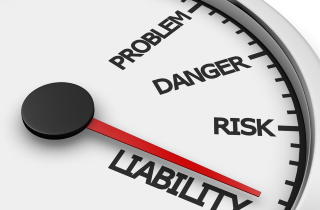 If you don't already know, anti-money-laundering (AML) rules and regulations are a big deal for lawyers!
The Solicitors Regulation Authority (SRA) is on a mission to bring an end to AML breaches and inefficiencies from law firms.   Part of the role of your solicitor now involves carrying out AML checks on new and existing clients, particularly in the very sensitive areas of conveyancing and administration of trusts.
In their recent crackdown, the SRA went to an average of seven law firms a month in the past year following up concerns about a lack of AML policies.   They made a total of 85 visits during that period and carried out a further 168 desk-based reviews.   In total 273 reports of potential AML breaches were made to the SRA, with 29 enforcement actions resulting in fines of £160,000 being issued.
The 3 most common reason for non-compliance with AML regulations were:
Not having a proper risk assessment in place.
Poor client due diligence (CDD).
Insufficient checks on the source of funds (particularly relevant to conveyancing).
The overwhelming majority of solicitors are trying to do the right thing when it comes to AML. There are however a small yet significant proportion of firms that are not doing enough to prevent money laundering.
Clients of LFBB will know that we've been carrying out rigorous identity checks for some time, but we are updating our AML policy and procedures to put us ahead of the pack.
Moving forward new clients – and existing clients starting new matters – will be asked to use Thirdfort as an electronic ID verification tool, which is part of our AML and CDD process.
Thirdfort is a much more robust and accurate way of verifying client ID documents than traditional, manual methods.   It has been designed and built to be quick and simple to use. There will be no more printing and posting documents. You won't even be required to come into the office – although we enjoy meeting our clients and you remain welcome to join us for a coffee.   Everything to do with AML and CDD is done through an app on your smartphone and tablet in minutes. In brief;
Thirdfort will text you a link to download the free App.
You fill in your details to create an account.
All your data is encrypted and Thirdfort won't share it with anyone else without permission.
You will be asked to complete various tasks particular to your matter, including any of the following:
ID check: Take a photo of your ID and record a short video, so we can check it really is you.
Upload Bank statements: Securely connect your bank and get digital statements directly from your bank or upload PDF statements if you prefer.
Source of funds questionnaire: Let us know where the money you're using for your transaction has come from, including gifted money.
Proof of address: Upload evidence such as utility bills, council tax or bank statement.
The App shows when you complete all of your tasks and your report has been sent.
Once you complete your cheques will be notified that you are who you say you are and whether there is an AML risk and further heightened CDD is required.
The benefits of using Thirdfort are not just in time saving. The Land Registry have offered "safe harbour" to firms that meet the newly announced 'digital ID standard' (see below), which means that using Thirdfort protects us and you from rebuke by the Land Registry in the event of fraud. With upwards of £7trillion of property on the Land Registry guaranteed against fraud, it's important to ensure that our AML and CDD is secure and fit for purpose.
Meeting the Digital ID standard
To meet the standard, a digital identity check needs to do the following:
Obtain evidence of identity, such as a passport. The security features of the ID document must be capable of being checked cryptographically (using a device that can unlock and extract the encrypted information held on the chip) including an electronic photo of the holder.
Check the ID document is genuine – ensuring it has not been forged or has expired by validating the digital information held on the chip unique to the organisation that has issued it.
Match the ID document to the client through biometric facial recognition against the photo obtained from the chip.
Link the person to the property if acting for the seller, borrower or lessor.
According to the 2011 Census, 76% of UK adults have a passport – perfect for carrying out Thirdfort enhanced electronic ID verification.   Only where a client states that they cannot complete a Thirdfort check,  for example not having the relevant ID documents or electronic capability to use the App  – can we and will we use an old-fashioned ID verification process.
It is an inescapable fact that we are living in ever-changing times, fast tracked by the Covid19 pandemic.   There are growing numbers of electronically signed deeds received at the Land Registry as more signing platforms bring in processes that comply with the Land Registry's requirements.   Solicitors, just like banks and mortgage lenders, are having to adapt to electronic verification processes which are all subject to regulatory standards used widely around the world.  Our clients can be positively identified to a high standard by a qualified service provider such as Thirdfort who can carry out the vigorous ID checks mentioned above.
As well as allowing LFBB to be confident of our AML and CDD checks, using Thirdfort allows us to help stop criminals profiting from fraudulent action which can undermine the trust consumers place in the solicitors and legal profession. If criminals are allowed to prosper through the use of lawfirm client accounts and fraudulent acts, that can damage confidence in the rule of law and administration of justice.   For those reasons we think that Thirdfort is a very helpful step in the right direction and we trust you will agree with us.
If you have any questions at all in relation to Thirdfort or any communications received from LFBB or our partners, please don't hesitate to contact us on 0114 272 9721