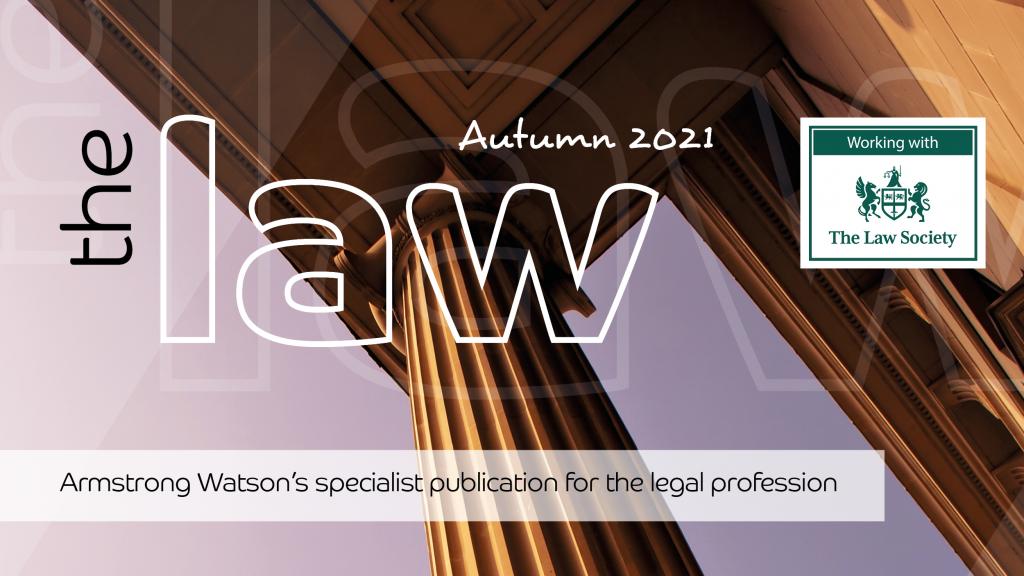 Welcome to the Autumn 2021 edition of The LAW, the specialist publication for the legal profession from the legal sector team at Armstrong Watson.
Law firms are continuing to perform strongly, which is very encouraging to see. The business of law has very much returned and the vast majority are actively looking to set and achieve strategic objectives. This edition of The LAW contains a summary of a recently published book that I have co-authored, all looking to the future of finance in law firms – we are able to arrange a discount from the publishers, so please contact me if you would like to arrange
that.
We continue look to the future with the results of surveys on returning to work in the office, and also an interview with Helen Daly on processes and automation. The latter is an area that could provide huge benefit to law firms. We work in this area with Helen by reviewing and assessing how each department operates; setting desired lean processes; identifying tasks that could be automated; and then passing the mantle to Helen to arrange the automation.
We are arranging a series of client only sessions on automation, so please do let me know if you would like to be involved.
There is also a tax feel to this edition, with helpful tips on electric company cars; the impact of increased rates of corporation tax announced in the recent budget and the accompanying 'super-deduction' for capital allowances on fixed asset investment; and tips on why you might want to continue to claim child benefit even if you would not receive it.
Linked with tax, you may have seen that there is a current HMRC consultation on changing the periods of assessment for partnerships and LLPs. More detail can be found at: www.gov.uk/government/consultations/basis-period-reform/basis-period-reform-consultation.
This will affect firms with year ends other than 31 March, and may well impact on the timing of tax payments and also make changes in partners more complex.
Specialists are available from all of our 17 offices, to provide pro-active support and advice to lawyers in compliance and business improvement matters. This publication is designed to
allow us to share our collective experience in acting for lawyers throughout the UK.
Follow this link to read more https://armstrongwatson.info/Law_Autumn_2021